September is Life Insurance Awareness Month
Posted on August 30, 2018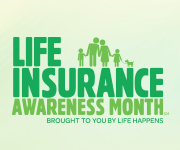 If someone will suffer financially when you die, chances are you need life insurance.  It's really no more complicated that. Simply ask yourself, if you died tomorrow, how would it affect your loved ones financially?
During a time of loss it can be difficult to manage daily activities let alone the worry about how to pay your rent or mortgage expenses, child care, car repairs or even educational expenses.  Having a life insurance policy can lessen some of this burden for your loved ones and it may even help them remain living in the comfort of their current home by paying their mortgage balance or a portion thereof.
Together with our partner LifeHelp, we can help you shop for the life insurance you need. At no cost or obligation, a knowledgeable licensed agent will help find coverage that is a good fit for your needs and budget.
To get started on your quote click here: http://www.lifehelp.com/credit-union-members