It's a win-win with our Visa Platinum Credit Cards, whether you choose lower rates or quality rewards.
We are proud to offer two quality credit cards to suit different needs and wants. If you're not sure which one is right for you, you can easily compare our Visa cards and consider your spending habits. Our Visa Platinum Card offers our lowest possible rate while our Visa Platinum Rewards Card lets you collect points on purchases to redeem for rewards.
*APR = Annual Percentage Rate. Annual Percentage Rate (APR) based on member's overall financial profile and credit history. APR will be assessed 1% higher on rewards cards. Rates subject to change. Please consult with a loan officer for full details. Other restrictions may apply.
Benefits of Our Visa Platinum Credit Cards
Both of our Visa credit card options come packed with essential features you shouldn't go without. See below for all the benefits you'll receive when you choose our Visa Platinum Credit Cards in Richmond VA.
✔ Competitive Interest Rates
Get a competitive APR on purchases and balance transfers. A low rate means you'll pay less interest and stay more in control of your payments.
✔ No Application Fee
We want to reward you with a credit card that will make your life easier, so it's free to apply for our Visa Platinum Card and our Visa Rewards Platinum Card.
✔ No Balance Transfer Fee
Avoid balance transfer fees when transferring high-interest debt to your new Visa card.
✔ No Annual Fee
Our credit card has no annual fee, so you can enjoy all its benefits without having to pay us each year – we know you have more important things to do with your money.
✔ Digital Wallet Options
Add your Partners Financial Federal Credit Union card to Apple Pay® or Google Pay™ and enjoy a new secure way to pay — in-person, in-app, or online.
✔ Accepted Worldwide
Whether you're in the U.S. or abroad, our Visa cards are sure to be accepted to cover the purchases you want to make.
✔ 25 Day Grace Period on Purchases
You can avoid paying any interest if you pay off your balance before interest starts to accumulate. With Partners Financial, you have a 25-day grace period on your purchases when you won't be charged interest.
✔ Mobile & Home Banking
Whether you need to bank on the go or from the comfort of your home, we make it easy with our mobile and home banking systems. Just download our app or visit our website to get all of the information you need about your Visa card.
VISA Platinum Credit Card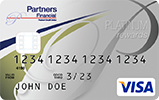 Our Visa Platinum Card gives you the simplistic spending power you need. Secure a low APR and a competitive interest rate so you can make purchases with confidence.
Low Rate: as low as 8.85% APR
| | |
| --- | --- |
| APR | As low as 8.85% |
| Annual Fee | $0 |
| Balance Transfer Fee | $0 |
| Grace Period | Enjoy a 25 day grace period on purchases |
VISA Platinum Rewards Credit Card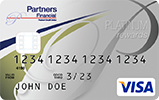 Our Visa Platinum Rewards Card gives you the spending power you need while earning rewards on your everyday purchases to make your buying experience even sweeter.
When you spend over $15 on products and services, you can earn one point for every dollar spent and then redeem your points for a wide range of quality rewards.
Low Rate: as low as 9.85% APR.
| | |
| --- | --- |
| APR | As low as 9.85% |
| Annual Fee | $0 |
| Balance Transfer Fee | $0 |
| Grace Period | Enjoy a 25 day grace period on purchases |
| Rewards Program | Earn 1 point for every $1 spent on transactions $15 and over |
| Rewards Redemption | Redeem your points for travel, gift certificates, gift cards or cash back rewards |
FAQ About Credit Cards in Richmond VA
How can I apply for your Visa Platinum Credit Cards?
Simply enter your details into our secure online portal to get started. We'll quickly review your application and offer you a rate and credit limit. The process is free and fast!
What rate will I get for my credit card?
The annual percentage rate (APR) you get will be based on your credit score and overall financial situation.
What fees do I need to pay on my credit card?
Both our Visa cards offer:
No application fee
No annual fee
No balance transfer fee
No cash advance fee
A late payment fee will be assessed for late payments.
Can I use my credit card to build credit?
Yes, all you have to do is make a small purchase each month and pay your minimum balance due on time each month. It's a good idea to pay off your entire balance in full whenever possible.
How can I choose which Visa card is right for me?
The first step is to choose a friendly, local credit card issuer who can support you through your financial journey.
Then decide if you want to use your credit card only occasionally to make a few purchases or keep it in a drawer for a rainy day. If that sounds like you, you want a simple card with the lowest possible interest rate.
On the other hand, if you plan to use your credit card to make frequent purchases at grocery stores, gas stations, and other shops and even pay bills, you may want the benefits of a rewards card. That way, you can earn points on dollars spent and choose from a wide range of rewards, including travel rewards.
Credit Card Resources