Earn Award Points for Everyday Spending with Your PFFCU Platinum Visa Rewards Card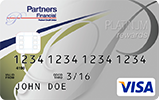 It's simple. Use your PFFCU Platinum Visa Rewards Card and watch your points add up. Earn 1 point for every $1 spent on transactions $15.00 and over. When you're ready to redeem, simply log in to your account, select your award, and order. You'll be enjoying life's Extra Awards® in no time. Redeem your points for Travel, Gift Certificates and Cards, or Cash.
BONUS!
Earn 100 bonus points for every 12 transactions you complete using your PFFCU Platinum Visa Rewards Card!
Travel Awards
Your travel options are virtually limitless. Use your points to head for the sun, surf, slopes, or your favorite city's streets. Since you earn awards points, not air miles, you can travel on most major airlines with fewer restrictions.
Learn more about the Travel Benefits of the Platinum Visa Rewards Card
Gift Certificates and Gift Cards
The awards points you earn can be redeemed for gift certificates/cards that you spend directly with participating merchants. Choose among restaurants, travel and leisure, gasoline, and top retailers of electronics, apparel, sporting goods, music, movies, and more.
Cash
Use your points for everyone's favorite award – CASH. Available disbursement options include your PFFCU savings account, checking account, or Platinum Visa Rewards Card.
Don't have our Platinum Visa Rewards Card? Find out how you can start enjoying the benefits by clicking here or calling us at 804-649-2957.