Argent & Partners Financial FCU Merger
On August 29, 2023, members of Partners Financial Federal Credit Union overwhelmingly voted YES to merge with Argent Credit Union.  Read on for information on how this merger will benefit you.
What You Need to Know
Earlier this year, Partners Financial Credit Union entered into a merger agreement with Argent Credit Union. With regulatory approval and the recent overwhelming vote of support from the membership of Partners Financial, we are excited to announce that Partners Financial will become a part of Argent effective October 1, 2023.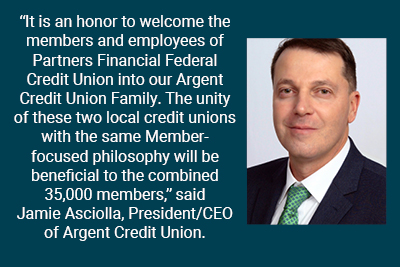 More branches across the Richmond community
In February 2024, upon system integration, Partners Financial's four retail branches will convert to Argent branches, expanding the Argent footprint to eight local branches.
The same friendly staff will continue to be available to serve you. All employees from both credit unions will be retained. Jamie Asciolla, Argent's current President/CEO will continue to lead the Credit Union.
Frequently Asked Questions
Are you an existing Partners Financial FCU member looking for details on how this merger affects you? Get your questions answered.