5 Reasons High Yield Checking Accounts Are Worth It
Posted on November 26, 2019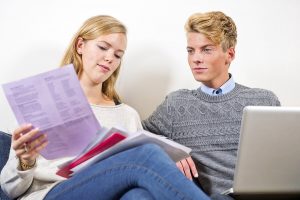 Wouldn't you like to watch your money grow without doing anything to make it happen?
That's one of the benefits of opening a high yield checking account. When you select an account with a high annual percentage rate, you can experience the joy of watching the funds in your account increase without doing anything different than you'd typically do.
What Is A High Yield Checking Account?
A high yield checking account stands apart from a traditional checking account because it offers an annual percentage rate (APY) that far exceeds the standard rate.
While traditional checking accounts may provide a nominal APY or none at all, high yield checking accounts' APY can meet or exceed that offered by popular savings options such as a savings account, money market account, or certificate of deposit (CD).
To enjoy the benefits of a high yield checking account, you often have to meet specific requirements, such as making a certain number of debit card transactions or maintaining a monthly minimum balance. So, be sure to stay on top of what's necessary to enjoy all of the benefits.
Benefits Of A High-Yield Checking Account
While putting your money in a high yield checking account won't help make you a millionaire overnight, it does have benefits. Here are five reasons why adding a high yield checking account to your list of financial accounts is worth it.
They Grow Your Money
One of the primary reasons a high yield checking account is worth it is because it grows your money. As long as you have money in your checking account, it will reap the benefits of the high annual percentage rate.
Regular checking accounts traditionally have an average interest rate of 0.06% or less, while a high yield account has a return of .5% or more. While checking accounts aren't designed for mass interest accumulation, you can experience a noticeable difference in the amount of additional money you earn by taking advantage of a high yield checking account.
Here's an example to showcase the difference. If you have an average checking account balance of $5,000 and your account earns 0.06% in interest, over 12 months, you'll make $3.
However, if you have the same $5,000 average balance in a high yield checking account that earns 2% over 12 months, you'll make $101.
Again, the interest you earn isn't designed to help you accumulate wealth, but it is extra money that you don't have to work for. Invest it, save it, spend it. The choice is yours.
They Charge Low Or No Monthly Fees
Many high yield checking accounts have low or no monthly fees. So, not only are you earning money, but they allow you to reduce the amount you pay to the bank. Talk about a win-win.
Credit unions and online banks typically charge fewer fees. Credit unions are a non-profit organization, so that's one of the benefits of being a member. As a member, you're also a part-owner, which means you get a say in how the credit union operates.
Both online banks and credit unions have fewer branches, so their smaller size allows them to charge fewer fees across the board compared to the larger bank conglomerates.
They Waive Or Refund ATM Fees
Along with saving on monthly fees, when you have a high yield checking account, your financial institution tends to waive ATM fees or refund them up to a certain amount each month. This is done as a convenience and goodwill effort for customers. Credit unions may also allow you to visit their shared branches and ATMs within their network to reduce associated ATM fees.
They Protect Your Money
High yield checking accounts are insured by the Federal Deposit Insurance Company (FDIC) or National Credit Union Association (NCUA) for up to $250,000 per account per user. With this protection, you can rest assured that in the event of a financial mishap, crime, or mistake, your money and the interest it's been earning is protected and will be returned to you.
They Allow You To Easily Access Your Money
Unlike a high yield savings account, money market account, Certificate of Deposit (CD), or other savings option that offers an attractive interest rate, you can have access to your money as you want with no limitations.
Today there are high yield checking accounts with rates that exceed those of traditional savings options, so you can have more flexibility when you want to access your funds while benefiting from the high APY.
Is A High Yield Checking Account Worth It For You?
When deciding whether you want to open a high yield checking account, you have to determine whether the benefits of the account, along with the checking account requirements, are worth it for your spending habits and financial needs.
At Partners Financial Federal Credit Union, we offer a high yield checking account with mobile banking and online banking access, waived monthly maintenance fees if you enroll in e-statements, ATM fee reimbursements, and no minimum balance requirements.
With interest rates starting at 0.65% APY, we invite you to check out our options and decide whether a high yield checking account is worth it for you.