The Difference Between Secured & Unsecured Credit Cards
Posted on June 27, 2019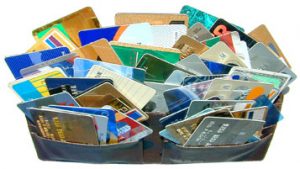 Five thousand years ago, ancient Mesopotamians used valueless clay tablets to represent currency when trading.
Today, we use credit cards.
In fact, you can access hundreds of credit cards in two categories–secured and unsecured.
Each type of card offers benefits and includes drawbacks. To decide which type of credit card is right for you, understand the difference between secured and unsecured credit cards.
What Are Secured Credit Cards?
Credit unions, banks and other financial institutions that issue credit cards expect you to repay what you charge on the card.
For this reason, lending institutions will check your credit history to determine if you're likely to repay your debt. If you have bad credit, you may still qualify for a credit card, though. In this case, apply for a secured credit card.
With a secured credit card, you deposit a refundable amount of money with the issuing lender. The amount you deposit could be equal to the credit limit on your credit card account or up to 200% more. Your credit limit can range from $200 to $3,000 depending on your credit history and the lender.
Despite the security deposit, you are still responsible to make regular payments to your account. The security deposit serves only as an insurance policy for the lending institution. If you miss a payment, the issuing credit union or bank can withdraw the amount due from your security deposit.
You can carry a balance on your secured credit card each month. While you'll owe interest on the unpaid balance, the issuing credit union or bank won't charge you extra if you carry a balance. Your credit score and history only improve, though, when you pay the full amount on time and in full and spend less than your credit limit.
Over time, you may be eligible to increase your credit limit on your secured credit card. After you've successfully made payments for eight to 12 months, ask the issuing credit union or bank for a credit limit increase. You may need to deposit additional funds to match the new credit limit. In some cases, your on-time payment history demonstrates your trustworthiness and no additional security deposit will be required.
You can receive any remaining security deposit back after you repay the entire credit card balance and close the account. Otherwise, that money is reserved solely to cover missed credit card payments.
What Are Unsecured Credit Cards?
Individuals with good credit can apply for unsecured credit cards. No upfront security deposit is required for this type of card.
The credit limit and interest rate for unsecured credit cards are established by individual lending agencies. The criteria that determine your credit limit includes your credit score, debt-to-income ratio, payment history, and the number of credit cards or other credit accounts you have open. In general, your credit limit will be higher if you have excellent credit.
Some unsecured credit cards also offer rewards based on your purchases. With this perk, you can earn cash back, airline miles or points to redeem for gift cards and other items.
Be sure to consider your needs as you apply for an unsecured credit card. If you plan to carry a balance, look for a card with a low-interest rate. If you pay off your balance each month, you could select a credit card with higher interest and better rewards.
As with a secured credit card, you'll need to make timely payments on your unsecured credit card. Review your monthly statement to find details about the charges, balance, applicable interest charges, and due date.
It's also important for you to pay your bill in full. Carrying a balance each month will increase your credit utilization rate and could affect your credit score.
Difference Between Secured And Unsecured Credit Cards: How To Choose
Now that you understand the difference between secured and unsecured credit cards, it's time to choose the right one for you.
Five steps can help you make your decision.
1. Evaluate your credit history and score via your credit report
According to Experian, a credit score of 300 to 579 is very poor, 580-669 is a fair score, 670-739 is good credit, 740-799 is very good, and above 800 is exceptional.
Your credit will determine if you qualify for an unsecured credit card or if you must start with a secured credit card.
2. Talk to your credit union or bank
Your local financial institution may be able to issue credit cards with favorable terms and may offer additional perks because of your existing relationship.
3. Consider your future plans
If you plan to buy a car or a house in the future but your credit score is only fair, a secured credit card can be an excellent tool to build your credit.
4. Compare fees
Both secured and unsecured credit cards include fees. Read the fine print and ask questions until you understand exactly what you'll owe, such as processing, application, annual, and late payment fees. Use your research to determine if you will gain more favorable fee terms with a secured or unsecured credit card.
5. Know yourself
Your financial habits and personal preferences could help you decide which credit card you choose. For example, if you know you have trouble making monthly payments, a secured card might be a good fit as you improve your financial situation and habits. Or you might choose an unsecured card with good airline mile rewards if you travel frequently.
Understanding The Difference Between Secured And Unsecured Credit Cards
Credit cards from credit unions, banks or other financial institutions offer more than convenience. Secured credit cards can build your credit while unsecured credit cards may offer rewards.
Regardless of which type of credit card you choose, look for the best option that meets your needs now and into the future.