Is It Worth It To Refinance Your Mortgage?
Posted on February 16, 2021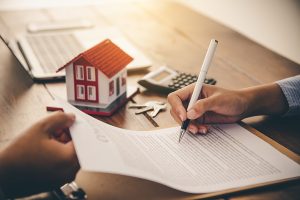 If you're a homeowner, you've probably heard of and possibly considered refinancing your mortgage. However, it can seem challenging to weigh the costs and hassle of refinancing your mortgage against the financial benefits you could reap. 
To help you decide if it's worth refinancing your mortgage, we'll cover the common reasons for refinancing. We'll also share the critical things to consider when refinancing a mortgage.
When you refinance your mortgage, you use a new mortgage to pay off your old loan. In doing this, you replace your old mortgage with the new one. The new mortgage is usually better in some way. The degree to which it is better depends on your circumstances and needs.
Reasons You Might Want to Refinance
1.  Your current monthly payment is too high
If you've found yourself struggling to make your monthly payments, you might be interested in refinancing your mortgage to change your loan's overall structure. Doing so might mean getting a lower APR but keeping the same loan term to decrease your monthly payments.
2.  Your credit score is significantly better
If your credit score has improved considerably since you took out your first mortgage, you might be able to get approved for an APR that is much lower. 
3.  Interest rates have dropped
If interest rates have decreased since you took out your mortgage, you might be interested in trying to refinance to access those great deals. Lowering your APR can save you thousands in interest over the life of the mortgage.
4.  Switching from a variable-rate to a fixed-rate mortgage or vice versa
If you have a variable-rate mortgage and aren't happy with the uncertainty associated with your APR, you might want to refinance to a fixed-rate mortgage. On the other hand, if you're going to take advantage of dropping interest rates, switching to a variable-rate mortgage can allow you to do this without refinancing every time rates drop.
5.  You want to access some of your home's equity
Cash-out refinancing allows you to replace your current mortgage with a mortgage that is a higher total amount than you owe, allowing you to access the difference in cash. This type of refinance is only possible if you've built up enough equity in your home. 
Things to Consider When Thinking About Refinancing
How much will it cost you?
When thinking about refinancing, keep in mind that all good things come at a cost. To refinance, you will often end up paying about 2% to 5% of your mortgage principal. It will take you some time to recoup those costs and start saving money.
To figure out how long it will take you to recoup the refinancing costs, you should first figure out how much money refinancing will save you. Using a refinance calculator, you can enter some information about your current and potential new mortgage to determine how long it will take you to break even. The calculator will also tell you how much money you will save over the life of the mortgage. 
How much can you save?
Now that we've discussed the costs consider the savings you can access by refinancing. To determine the exact costs, you'll want to first shop around to get an idea of the new APR and term you can qualify for from various lenders. You can do this by applying for pre-approval. With pre-approval in hand, you can then calculate your actual savings.
How much will your monthly mortgage payments be?
The amount you save per month depends on your new mortgage. If your overall goal is to refinance to save money on your monthly payment, you can extend your term or keep the same term and obtain a lower APR. 
However, be aware that if you retain the same APR and extend your term, you are paying interest for a longer period. This means that you pay more in interest over the loan's life while you pay less per month.
What will you pay in interest over the life of the loan?
If you refinance to a lower APR or a shorter term, you'll be paying less in interest over the life of the mortgage. This type of refinance could save you thousands. But be sure to factor in how much you will pay in closing costs.
So, Is It Worth it to Refinance?
Overall, the typical rule of thumb is that you should watch for interest rates at least 1% to 2% lower than your current rate. You also want to be sure that you won't be spending more money in the long run and that you'll be in the house long enough to break even and save money. 
If you're considering a refinance, you should always shop around to get the best possible deal. To compare different interest rates and loan terms to get an idea of how much you can expect for a monthly payment, check out our refinance calculator.