Using A Refinance Mortgage Rates Calculator
Posted on March 30, 2021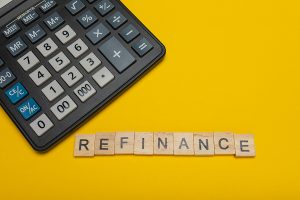 When you are considering refinancing your mortgage, it can be difficult to compare loans with different APRs and terms. One of the best tools available to help you understand and compare mortgages is a refinance mortgage rates calculator. This is particularly true for refinancing when you want to save as much money as possible.
However, it can be a bit confusing to know what information you need to plug in and how to interpret the output. To help you get the most out of using a mortgage rates calculator, we've created this guide to walk you through the process.
Refinance Mortgage Rates Calculator Terms 
Here's a list of terms that you'll want to understand when using a mortgage rates calculator. 
Fixed-rate and adjustable-rate mortgages (ARM)
You'll need to know whether your current and new mortgage will be fixed-rate or adjustable-rate. 
A fixed-rate mortgage is one where the interest rate will remain the same for the entire life of the loan. An adjustable-rate or variable-rate mortgage is one where the interest rate will fluctuate over time, usually following some financial index. 
Mortgage term
The number of years you will be paying the mortgage.
Discount points
Discount points are payments made toward the interest of the mortgage. Each point is a percent of the total mortgage principal. 
Origination points
Origination points are the percentage points of the mortgage principal that are paid to process the mortgage approval.
Closing costs
These are refinancing costs that you will pay in addition to the origination costs. These include fees for appraisal, inspection, and any early repayment penalties. 
Tracking Refinance Mortgage Rates Calculator Values  
Suppose you're using a mortgage rate calculator to determine whether to refinance your mortgage or choose between multiple mortgages. In that case, you'll want to keep track of some values to plug into the calculator. Some of these are for your current mortgage, and others are for potential new mortgages. 
It can help make the process easier if you keep track of these values in a notebook or spreadsheet as you shop.
For your current mortgage:
Your current loan amount. This is the amount of principal you took out a mortgage for in the first place.
Your current mortgage type. Is your mortgage fixed-rate or variable-rate?
Your current mortgage term. How long is your current mortgage for?
Your current interest rate. What is the current interest rate on your mortgage?
For potential new mortgages:
The amount of the new mortgage. Are you going the cash-out refinancing route and taking a mortgage out for the same amount you originally did? Or are you refinancing to a lower principal amount?
The type of the new mortgage. This is where you'll want to keep track of whether you're looking at adjustable-rate or fixed-rate mortgages.
The term for your new mortgage. How long your new mortgage will be.
The new interest rate for a potential new mortgage. How much the interest rate will be for your additional mortgage.
The discount points for your new mortgage. Are you planning to pay anything upfront toward the interest on your new mortgage?
Origination points for your new mortgage. How much of the principal on the new mortgage will you be charged to process your loan application? This information can be provided by the lender.
Any additional closing costs. The financial institution can provide these. If you apply for pre-qualification, this will often be issued with your pre-approval paperwork.
How many years you are planning to stay in the home before you refinance again or sell the home. This is more of an arbitrary, personal number. Think about your career, your family, and your goals. Are you staying in the home long-term? Or are you planning to move in just a few years? 
Information about your property:
Appraisal value. This is the amount of money that the property has recently been appraised for. You will want an up-to-date appraisal, which is required in many refinancing processes, to get an accurate estimate.
Yearly Property Taxes. How much you pay each year in taxes for your home.
Yearly Property Insurance. This value is how much you pay each year for insurance for your home. 
Interpreting Calculator Output
Now that you've collected all of your information and run the numbers, what does the output mean? 
A good refinance calculator will be clear about the information it is giving you. It should tell you how much money you will save per month and over the period you are planning to stay in your home. It should also include information on how long it will take to recoup the costs of refinancing.
Once you have the output, be sure to record these values in your spreadsheet. That way, you can run the numbers for all the mortgages you are interested in and compare them.
If you're looking for a calculator to help you understand your refinancing options, look no further. Partners Financial Federal Credit Union has a simple and easy-to-use calculator to help you understand your mortgage payments.