Your Guide To Personal Loans for Debt Consolidation
Posted on October 18, 2017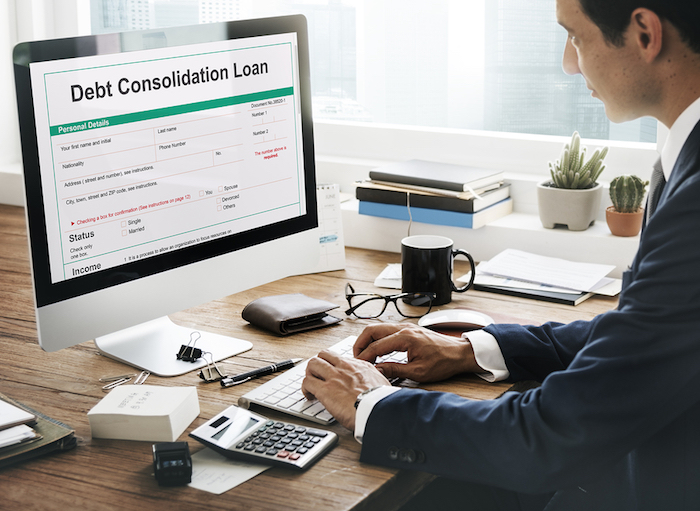 Get out of debt with a Debt Consolidation Loan
Having debt can feel like being stuck in the trenches, with no easy way to get out. However, debt consolidation has been the rope many people have used to break themselves free of past due bills.
While there are many ways of managing debt, you can save a lot of money in the long-term with a personal loan for debt consolidation, as long as you find a program with modest interest rates and fees.
Debt consolidation allows you to combine several bills together into one, low monthly payment. So rather than having the uncertainty of bills for many different accounts, you can relax knowing you are paying all of them at the same time.  
Even though there are several approaches to take for debt consolidation, such as a home equity loan or credit card, personal loans appeal to a wide variety of people due to their flexibility and lower interest rates.
Here's a short guide explaining why personal loans are so helpful to those looking for a fixed term debt consolidation program.
You May Pay Off Your Debt Quicker With A Personal Loan
A helpful tip when managing debt is to remember that the longer you make payments on debt, the more you will end up paying–through interest and possibly other fees. One reason that many people end up paying these inflated amounts is because they settle with paying the minimum payment each month. This happens most often with credit card accounts.
A personal loan provides a solution to this problem by giving you a set loan term – often just a few years. This is helpful because at the end of the loan term, assuming you have made all payments, you will be free and clear of that debt.
Once you find a personal loan provider, you can say goodbye to the plastic and set your sights on a debt-free or minimal debt lifestyle.
Personal Loans Can Help Lower Your Interest Rates
A common approach for chipping away at debt is to seek lower interest rates. If you have credit cards, you can often call your credit card providers and negotiate lower rates. But if that's not an option, or if you want to eliminate your active credit accounts, a personal loan could be the perfect solution.
The interest rates for personal loans are typically lower than the interest rates for credit lines (depending on your credit score and other factors). If you are not able to consolidate all of your other debts into the new personal loan, you should use the loan to pay off your highest interest rates first, which will ensure that you pay as little interest as possible.
Your Personal Loan Can Provide Convenience & Efficiency
For anyone who has several types of debt being paid for, such as student loans, credit cards and car loans, just keeping up with all of these different payments and debt amounts can be overwhelming.
A personal loan can alleviate this problem by combining those bills into one manageable payment each month. Having your debt all in one place is a great way to reduce the risk of missing payments because you lost track of all of your accounts. Even if you aren't trying to decrease interest rates or pay your debt off quicker, the convenience of one single payment could be worth pursuing a personal loan.
You Can Improve Your Credit Over Time Through A Personal Loan
If you're anywhere close to using your maximum available credit, your score will suffer for it. But when you get a personal loan, it turns all of that debt into an installment loan rather than several different lines of credit.
Since one of the factors for your credit score is credit utilization, shifting from one or more maxed out credit cards to a personal loan can have a positive impact on your credit score. It's important to remember that if you transfer your credit balances to your personal loan, you must also adjust your spending habits – or review the reasons your debt climbed to start with – otherwise, you're likely to land in the same exact place in the future, possibly with even more debt.
Use Personal Loan Debt Consolidation To Lower Your Monthly Payments
To effectively pay down debt, one must make multiple payments to creditors while making sure to avoid the penalties that come with making minimum payments. All of these smaller payments can add up to much more than what you will pay on a personal loan for the same outcome.
When applying for a personal loan, consider whether or not you are getting a reduced monthly payment and if that will help you reach your financial goals. If you successfully lower your monthly payment by combining your debt into one lump sum, you should be able to pay more on the principle and pay your debt down faster.
Use Personal Loans For Debt Consolidation To Take Control Of Your Debt
Being in debt and dealing with multiple creditors can affect every aspect of your life, making you feel trapped and overwhelmed. A personal loan can be used as a tool for relief, allowing you to take control of your bills and providing more convenience when it comes to debt management.
For more information on using personal loans to consolidate your debt, contact Partners Financial Federal Credit Union today at 1-800-321-5617.