How Much Car Can I Afford?
Posted on March 3, 2022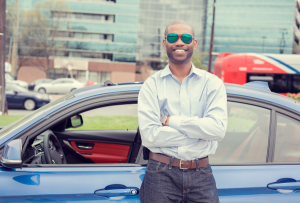 The process of buying a car can seem overwhelming with all the brands, models, and options that exist. If you're asking yourself, "How much car can I afford?" start with taking a closer look at your monthly take-home pay and expenses. The search begins before you even set foot on the lot! Read below for our advice on finding your new ride.
Get Your Budget on Track
Go into the car purchasing process prepared with key numbers from your budget. Take a few minutes to run down what you spend every month. From your monthly take-home pay, subtract rent or mortgage, bills, groceries, child expenses, savings, and extra spending. 
Take that amount into consideration with the 20% rule. The idea behind the 20% rule is to limit your expected monthly car loan payment to 20% or less of your net income. This ensures you'll have enough money left over each month to cover the rest of life's varied expenses, including unexpected financial emergencies.
Keep in mind the recommended 20% is meant to cover your car loan payment. This doesn't factor in ongoing car-related expenses such as fuel, maintenance, and insurance.
Understand Monthly Auto Expenses
Take the time to figure out your ongoing costs of car ownership including insurance, maintenance, and fuel in addition to your monthly payment. Even though it takes a little work to come up with these estimates, don't overlook them. Knowing these costs can help you choose among multiple vehicles. 
Be prepared for the varied costs of maintenance and repair. A used car can be the most cost-effective option by far. Remember to factor in all required work such as oil changes and brake pad replacement at some point. Also know that these costs differ based on your location, your driving history, and the vehicle you've chosen. 
Breaking Down the Monthly Payment
Your monthly car loan payment is largely affected by your loan amount, interest rate, and loan term. These figures will usually depend on factors such as trade-in value, down payment amount, and the Annual Percentage Rate (APR). 
Auto loan interest rates are determined by your personal financial history. Your credit, income, and current debt will have the most significant impact on your rate. The better your credit, the lower your interest rate. Your credit score will dictate your APR so be sure you know beforehand what your credit report looks like.
Consider the Loan Term Length
When deciding on what loan term length is right for you, consider your overall budget and financial situation. 
If you prefer to save on the total amount you pay for your car, choose a shorter loan term or a less-expensive car. A shorter loan term usually means your monthly car loan payment will likely be higher because you'll pay off the loan balance with fewer monthly payments.
Remember that the condition of the vehicle you're considering can influence the usual loan terms of 48, 60, and 72 months.
Our loan and credit calculator can also come in handy when you have all the budgeting and finance details pretty clear ahead of time. This will help you find an accurate monthly payment given your unique information.
How Much Car Can I Afford: Choosing Your Best Option
Now that you have researched, compared models, and priced your selections, you are ready to purchase. The most important things are to know your budget and remember that there's more to owning a car than just that monthly payment. Establishing an auto budget is an important first step in the car-buying process. 
Once you've landed on a number you're comfortable with, you can move on to identifying makes and models within your price range before heading to the dealership.
There are many questions involved in the process of buying a car, including deciding whether to purchase one new or used. To help you decide, we've laid out the advantages of both below!
COMPARING THE COSTS OF BUYING A NEW VS. USED CAR