How To Choose The Best Checking Account
Posted on September 5, 2019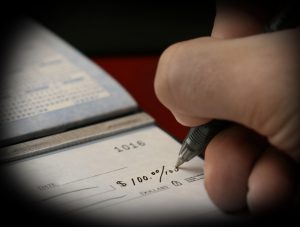 When choosing the best checking account for you, there are many options available.
The key to picking the best checking account is knowing what you want from an account and how the various options can best serve you. Whether you choose a rewards account, a high-yield account, or another one altogether, you can find something that works great for your financial needs.
Keep reading to learn about the different checking accounts available and how to choose the right one for you.
What Is A Checking Account Used For?
5 Types Of Checking Accounts
Here are five popular checking account options beyond a standard personal checking account. Each has its benefits, and some cater to a specific population. So, you want to consider how each account can benefit your financial status and needs.
High-Yield Checking Account
A high-yield checking account is appealing because it allows you to earn higher than average interest on the money in your account. You have likely come to expect little to no interest to accumulate from a checking account, so this option can provide a significant benefit over time.
Keep in mind that your high-yield checking account shouldn't become a long-term savings account, as there are many better options to save money.
Rewards Checking Account
The rewards checking account is another option. It's similar to the high-yield checking account in that you earn money just for using your account.
Some reward options include a percentage cashback up to a certain amount. Other accounts offer a bonus for opening your account or rewards throughout the year based on your spending habits. Since your eligibility to earn the rewards can vary, it's important to review the details related to how you can qualify for rewards.
Free Checking Account
A free checking account is an excellent option because you don't have to pay monthly maintenance fees to keep it open. With fees ranging from $3 to $12 or more per month, you can save over $100 per year in fees alone using a free checking account.
Student Checking Account
A student checking account is specifically designed to support young adults during their crucial transitional period as students in high school and/or college. For this reason, the fees are nominal, yet you have access to many banking privileges, including using a debit card or writing a check.
Second Chance Checking Account
The second chance checking account is designed for you if you have experienced financial struggles and are unable to qualify for a traditional checking account. These difficulties could include a low credit score or poor banking history.
A second chance checking account allows you to establish a good banking history and positive spending habits so that you can graduate to a traditional checking account.
Partners Financial Credit Union Checking Accounts
At Partner's Financial Credit Union, we want to make choosing the best checking account easier. That's why we have many options available.
Below you'll find an outline of the accounts we have and how they might best suit your banking needs.
All of our checking accounts come with these features:
Debit card access
Occasional overdraft privilege service (OOPS)
Home banking and mobile banking access
E-statements
Bill pay
Direct deposit
Notary service
Phone pal
Imagine Checking Account
Our Imagine Checking Account is a high-interest account allowing you to earn interest on balances up to $10,000. Also, you get ATM fee reimbursements, and there's no monthly maintenance fee or minimum balance requirement.
Imagine Tunes Checking
The Imagine Tunes Checking Account is a bit different than the Imagine Checking Account because it's a rewards account not a high-interest account. The rewards are iTunes and Amazon refunds.
Each billing cycle, you can earn refunds by meeting qualifications like using your debit card or using online banking. Similar to the Imagine Checking Account, there's no minimum balance requirement, and you get ATM fee reimbursements.
Your first reward is a $25 refund to use for iTunes or Amazon just for signing up.
Imagine Saver Checking
The Imagine Saver Checking Account is unique because it offers the same features and benefits of the Imagine Checking account. However, the interest you earn goes into a separate savings account. You then earn 0.25% APY on your balances up to $10,000.
This is an excellent alternative if you struggle to save consistently, but you use your checking account regularly. It allows you to automate your savings and earn interest on it.
Classic Checking Account
The Classic Checking Account is our essential, no interest, no rewards, no fancy features account. It is the epitome of a standard personal checking account. You can get started with a $25 initial deposit and there is no minimum balance requirement each month.
Choosing The Best Checking Account For You
At Partners Financial Credit Union, we offer several checking accounts to fit your banking needs. So, whether you choose an account that we provide or one of the other popular checking accounts reviewed above, you want to ensure that you pick one that will work well for you.