How to Get a Loan for a Used Car When Buying From a Private Seller
Posted on January 4, 2022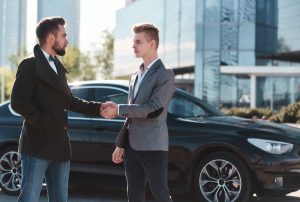 Buying a used car is a great choice for many people. Used cars hold their value better than new cars. Plus, they come in all shapes and sizes to suit every budget and lifestyle. 
But what can you do if you see your ideal car for sale in a place that's not a traditional dealership? Read on to find out how to get a loan for a used car from a private seller.
How Do Loans for Cars From Private Sellers Work?
A loan to buy a used car from a private seller is sometimes called a Private Party Auto Loan. It means you get a loan from a financial institution and use the money to buy a car from an individual person, not an official car dealership. 
This person could be a family member, friend, colleague, or neighbor. It could be someone you find through a website, app, or magazine. You might even see an ad in the window of a shop or a parked car! 
Here's how loans for used cars from private sellers work:
You see a used car you want to buy from a private seller.

You choose a financial institution (like your local credit union) that offers loans for cars from private sellers.

You apply for a loan with the details of the car you've found.

Once approved, your lender will give you the money to pay the private seller. 

You buy the car and begin making monthly payments to your lender.
How Much Can I Borrow to Buy a Used Car?
Partners Financial Federal Credit Union offers auto loans for every budget so you can borrow just about any amount.
Here's why a small auto loan could work for you: 
You might find a great deal on a used car through friends or family, so you don't need to borrow as much as if you were buying from a dealership.

You'll save a ton of money on interest if your loan is, say, $5,000 compared to $10,000. 

Buying an affordable used car means you're less likely to end up "underwater" where you owe more than the car is worth—a common problem when people shell out for brand new cars.

You can pay off your loan faster and enjoy your car with no monthly payments.
Note: If you shop around different lenders, you might find the starting loan amount is significantly higher than what you need to borrow. 
What Age Cars Can Qualify for a Loan?
Partners Financial Federal Credit Union offers loans for used cars that are over 10 years old. 
Here are a few points to keep in mind:
Many financial institutions only provide loans for new and near-new vehicles, meaning the car has to be about one to three years old to qualify for an auto loan. 

Partner's Financial Credit Union can give you an auto loan for an older vehicle so you'll have a much greater choice of cars within your budget.

Older cars can be just as reliable and comfortable as new cars. Just get your car serviced regularly and you should have a great experience—without the huge price tag!
What Interest Will I Pay on a Loan for a Used Car?
Interest on car loans is called the annual percentage rate (APR). The APR you get will depend on a few things:
Your credit score.

The better your credit, the lower the rate you'll get.

The age of the car you want to buy.

The newer the vehicle, the lower the rate.

The length of your loan.

The shorter your loan term, the lower your rate.
All of these factors mean lenders might offer you very different rates, which is why it's a good idea to shop around to get the best deal.
5 Tips for Getting a Loan for a Used Car from a Private Seller
If a private party auto loan sounds like exactly what you need, here are a few steps you might want to work through before you sign on the dotted line:
Find out your credit score

. If it isn't as high as you would like right now, you could

work on improving your credit

before you apply for your car loan. 

Work out your monthly budget of income vs. expenses and use a

loan calculator

so you know what car payment and car purchase price you can afford. 

Look in all your favorite places (online, in magazines, etc.) to find the right used car for your needs and wants.

Shop around a range of financial institutions to find the ideal loan amount and term for the car you want to buy—keep in mind that credit unions can offer low rates because they're not-for-profit organizations.

Get pre-approved for your car loan so you know what APR you'll get—note that multiple applications for a car loan in a short time will only ding your credit once, and it will bounce back once you've made some timely monthly payments. 
Where to Get a Car Loan to Buy a Used Car
Not every financial institution offers loans for used cars from a private seller—so that will rule out a few options when it comes to finding the right lender for you.
If you find a couple of lenders that appear to offer a similar car loan, the trick is to keep asking questions until one comes out on top. 
For example: Does the lender offer a loan for the amount you want? Does the lender offer a loan for the age of car you want to buy? Click below for more ideas!
WHERE TO GET AN AUTO LOAN: BANK VS. CREDIT UNION