The Pros and Cons of Refinancing a Car
Posted on December 2, 2021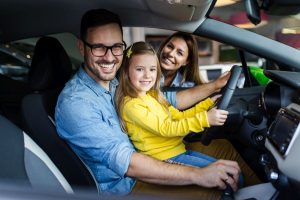 Refinancing a car loan can save you a good amount of money over the lifetime of the loan and even significantly lower your monthly payment. However, it may not always be the right financial move for you. We'll cover the pros and cons of refinancing a car and when you should consider pursuing a new auto loan.
Pros of an Auto Refinance
Most applicants for an automotive refinance are great candidates for a lower monthly payment, lower interest, and other advantages. There are many pluses to refinancing a car. 
Lower Payments
Perhaps the most common positive outcome of an automotive refinance is lower monthly payments. The appeal of paying less every month is what drives many consumers to consider an automotive refinance. 
The lower payment can be the result of a lower interest rate, extended payment period, or other loan terms. When you need to score a lower monthly payment due to job loss, increased bills, or other financial circumstances, an automotive refinance can be a real lifesaver.
Lower Interest Rates
Many people can benefit from lower interest rates when they apply for a new loan. This could be due to market trends or simply applying with a different lender. 
If you have recently experienced a significant improvement in your credit score, you could likely benefit from an auto refinance with lower interest rates. In addition to changing your monthly payment, lower interest rates can also lead to paying less overall over the lifetime of the loan.
Different Repayment Period
Another option during your automotive refinance is changing the length of the loan to better fit your financial needs. 
For some families, this may mean extending the repayment period in order to save money each month. For others, this may mean shortening the repayment period to save money on the overall cost of the loan. 
For example, if you have recently received a raise or added a second income to your family, it may make sense to increase your monthly payment and pay off the loan faster. A different repayment period can help you do just that.
Overall Financial Savings
All of the pros of an auto refinance have one main thing in common: saving you money.
An auto refinance can help you save money over the lifetime of the loan via more advantageous loan terms. This could include lower interest rates or shorter repayment periods. Most people will end up saving money with an automotive refinance. 
To save the most money over the lifetime of your loan, keep the length of your loan as short as possible and try to obtain the lowest interest rate possible. 
Cons of an Auto Refinance
Not everyone will benefit from an auto refinance in the same way. While refinancing a car can often be a wise financial decision for many people, there are a few potential downsides to keep in mind.
Extended Repayment Periods
In some cases, the terms of your new auto loan could mean that it will take much longer to pay off. Some automotive refinance options include extending the repayment period to keep costs down. While this can result in a lower monthly payment, the flip side is that you may be stuck making that payment for a few extra years. 
This trade-off may be worth it for some — but not of benefit to others. You'll need to have a clear idea of your financial situation in mind to see what makes sense for you.
Paying More Overall
Similarly, the overall amount that you pay during the life of the loan could end up being higher. For example, by extending your loan period, you may end up paying more in interest over time, even if you have a new lower rate. 
You'll want to run the numbers to help you make your decision. Be sure to calculate the interest and principal amounts you will pay with your new loan product vs. your original financing deal to compare.
Fees
Some lenders may charge fees for your new loan, including application fees or prepayment penalties. Be sure to research loan products from different lenders and ask your bank or credit union upfront about any potential fees or hidden costs. These fees can add up and cut into your overall savings, possibly even making a new auto loan not worth the cost.
Learn More About the Pros and Cons of Refinancing a Car With Partners Financial
If you're in the market for a new auto loan, make sure you shop around to get the best interest rate and other terms, run the numbers to compare your current loan with your potential new loan and take your financial situation and goals into account.
At Partners Financial Federal Credit Union, we will walk you through the refinancing process and help you decide if it's the right move for you. Our members enjoy low interest rates, beneficial loan terms, and a quick and easy application process.
Click to check out our current auto loan rates.