6 Steps to Getting a Car Loan With Fair Credit
Posted on January 11, 2022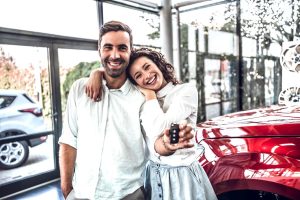 Everyone deserves a chance to make amends and that's especially true when it comes to your credit score. There's no reason a few mistakes in your financial history should stand in the way of a good auto loan. 
By following some simple steps, you should be able to bounce back from the past and enjoy a secure future. Read on to find out how you can qualify for a car loan with fair credit.  
1. Check Your Credit Score
The first thing you need to do is find out exactly where you stand. Everyone is entitled to get one free credit report from each of the main credit bureaus every year. Make sure to request your credit report so you can determine your credit range.
Keep in mind that your score and the ranges may differ slightly between the different credit bureaus. Here are Experian's ranges:
Poor: 300 to 580

Fair: 580 to 670

Good: 670 to 740

Very good: 740 to 800

Exceptional: 800 to 850
2. Explore Ways to Improve Your Credit
Your credit score is important because it will impact whether your auto loan is approved or not, and what annual percentage rate (APR) you get. 
Here's what you could do to give your credit a boost before you apply for your auto loan:
Be sure not to miss any monthly payments for things like credit cards, loans, and even utility bills – timely payments are essential for a great credit score.

See if you can pay off any credit cards then be sure to keep the account open as this will improve your credit utilization ratio – the more available credit you have, the better your score.

Also, the longer you've had your accounts open, the better your score.

Consider getting a debt consolidation loan if you have several maxed-out cards or are struggling to keep up with many monthly payments.
3. Work Out Your Monthly Budget
Once you've got your finances in the best shape possible, it's time to see how much money you have for your monthly car payment. This will help you decide the right purchase price and loan amount for your car.
Here's how to work out how much car you can afford:
Add up all your income from your main employer, any side jobs, and any other payments you get each month.

Add up all your expenses including rent or mortgage, utilities, debt payments, health care, clothes, etc.

Take your total income and subtract your total expenses.

Now look at what you have left and make sure it's enough to cover an auto payment, plus the running costs of a car: gas, repairs, maintenance, insurance, and fees.
4. Save Up for a Down Payment
Although there are auto loans for 100% of the purchase price, a down payment shows your lender that you're a responsible kind of person who's capable of putting some money aside each month.

Advantages of having a down payment include:
The amount you borrow will be smaller.

A smaller loan amount means you might be able to afford the monthly payments for a shorter loan term.

A shorter loan term means you get a lower APR and pay less total interest over the life of your loan.

You'll pay your loan off faster and have no more monthly payments!
5. Shop Around for the Right Lender for You 
Another tip for getting a car loan with fair credit is to shop around for a lender who offers auto loans for smaller amounts than usual.  
The good news is, Partners Financial FCU has a lower threshold for the amount of loan and age of vehicle than some other financial institutions. Partners Financial FCU offers auto loans for less than $5,000!
A small loan amount is ideal for rebuilding your credit because:
You're more likely to be approved if you ask to borrow about $5,000 compared to, say, $15,000. 

You're more likely to be able to make all your monthly payments on time, which is key to boosting your credit.

Once you've paid off your loan and your credit score has significantly improved, you can get a larger loan for a more expensive car!
6. Get Pre-Approved for an Affordable Auto Loan
Getting pre-approved means you can show up at the dealership – or wherever you plan to buy your car – with your financing ready to go. 
Advantages of pre-approval include:
You find out exactly what APR you will get for your credit score. 

You

find out what the monthly payment will be

for the purchase price you have in mind, so you won't go over budget.

The seller will take you seriously as a buyer.

If you're going to a car dealership, you'll be able to focus solely on choosing your vehicle – not waste time haggling over the loan terms, rates, and fees.
Ready to Get a Car Loan With Fair Credit?
If you feel you've ticked all the financial boxes and are ready to take the next steps in your car-buying journey, it's a good idea to stop and take a moment to think about the kind of car you want to buy.
Of course, there's nothing like owning something brand new. But you might find a used car brings many benefits – without the hefty price tag of a new car. Click below to find out more!