Are Store Credit Cards Bad?
Posted on August 31, 2021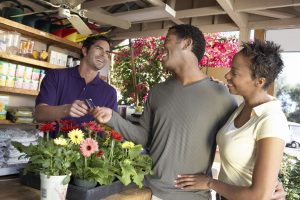 Getting financing from the same place where you're buying the product sounds like a great idea. You might buy all your household items with a same-brand credit card, or you might have a handy card you use only for gas.
This will make it easy to track and trace your spending at that store while enjoying special member-only discounts and rewards. But beware of drawbacks. 
Many store credit cards have higher interest rates compared to credit unions and banks. And low credit limits make it easy to use up all your available credit, which can hurt your credit score.
Learn more about the details of store credit cards below.  
Pros and Cons of Store Cards 
Like most things in life, there are both advantages and disadvantages to getting a store credit card vs. a regular credit card. Consider the following before signing up.
Pros include:
Convenience.

If you frequently shop at a certain store, it will be helpful to keep track of exactly what you're buying there.

Discounts.

You might get a big sign-up discount on your first purchase, as well as extra discounts on top of the store's sales and specials throughout the year.

Build Credit.

If you don't have much credit history, regularly paying off your store credit card can be a good way to start gaining a good credit score. 
Cons include:
Applying Can Harm Your Credit.

If the store runs a hard credit check on your financial history, it will lower your credit score, at least in the short term.
Interest Rates May Be Higher
This is discussed above, but it is an important point that bears repeating.
Interest is the extra money you pay your lender for borrowing their money. Store credit cards often charge higher interest than a credit union or bank. Many store credit cards charge interest of around 25%. 
A typical credit union or bank will offer a variety of credit cards with different interest rates, depending on the terms and conditions of a given card. For example, you might qualify for a card that charges as low as an 8% annual percentage rate. This is significantly lower than 25%!
Surprise Terms
Before you sign up for a branded card from your favorite retailer, make sure you understand these phrases:
Introductory Rate:

The interest you'll pay at the beginning, which might be a low, attractive rate. But beware of what it will change to after the introductory period is over. 

APR:

The annual percentage rate of interest that will be used to calculate how much interest you'll pay each month on your outstanding balance. 

Credit Score:

This goes up and down depending on factors including how much debt you have and how well you pay it off. Excellent credit will get you lower interest rates.

Credit Limit:

The maximum amount you can borrow on that card. It's best not to max out your cards so you can keep a good debt-to-credit ratio.

Due Date:

The latest time each month when you should make a payment on your card. It's a good idea to set reminders so you can avoid late fees.

Grace Period:

A period after the due date when you won't yet be charged a late fee. Check to see if your store offers the same period as your credit union or bank.

Minimum Payment:

The smallest amount you should pay back each month. If you have a high balance, paying the minimum amount means you'll pay more in interest.
Your Rewards Might Be Limited
Yes, your favorite retailer might offer you one reward for every dollar spent. But check the fine print. How many rewards do you need to earn before you can actually buy something you want? 
For example, if 500 points get you $5 to spend, then you might need about 2000 points before you can get a single free t-shirt. 
Besides, rewards on store credit cards can usually be spent only at that one place. With credit card rewards from a credit union or bank, you can generally redeem your rewards at a huge range of shopping outlets and travel vendors – and even get cashback.
Where Can You Use a Store Credit Card?
The most obvious drawback to having a store credit card is that you can use it only in one place.
Brand loyalty is a nice idea. But if you always stick to the same store, you'll have fewer options when it comes to buying clothes, furniture, and other essential items. 
Likewise, if you always buy your gas from the same place because you have that handy credit card, you might miss out on the much cheaper prices across town. 
You could miss out on discounts and sales offered elsewhere, too.
Still Thinking About Getting a Store Credit Card?
Store credit cards can be useful. You'll be able to manage all your purchases at your favorite store and unlock member-only features. But before you sign up to take advantage of that generous introductory offer, make sure you look into all your options.