What Are The Best Credit Cards?
Posted on July 31, 2019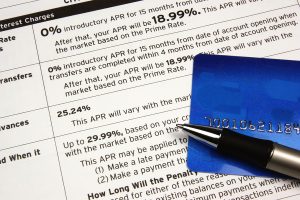 The right credit card helps you manage your finances, build credit, or earn rewards. Finding one that suits your needs can be challenging, though, as you compare dozens of available options.
To narrow down what are the best credit cards, you need to determine why you want one in the first place. This answer helps you find a card that meets your needs and goals.
What Are The Best Credit Cards For Your Goals
You might want a credit card to boost your credit score and financial standing. Or maybe you want to transfer high-interest balances from other cards and save money. Using a convenient credit card could also help you earn rewards like travel miles or cashback. If you're a student, a specialized credit card can teach you how to manage your money.
First, determine your goal, and then discover what to look for in the best credit cards.
Rewards
Earn cash back, gift certificates, travel discounts, a statement credit, merchandise, or other perks as you use your reward credit card. 
To maximize your reward credit card, review the reward offers carefully. Some cards include more rewards while other cards limit the number of rewards you can earn.
You will want to pay off your balance in full each month, too. Otherwise, you may end up spending more on interest charges than you earn in rewards.
Also, choose a card with rewards that you will use. For example, only sign up for a credit card that offers airline points if you fly often. Or choose a branded gas or department store card if you shop there regularly.
The specific rewards card you choose depends on the rewards you want, your lifestyle, and your spending habits.
Common features of reward credit cards include:
Earning rewards
Receive points or a percentage of every dollar you charge on your rewards credit card. You may earn additional rewards for shopping at certain merchants. Some cards also offer a sign-up bonus and introductory bonus that allows you to earn rewards faster.
Eligibility
You may need a credit score of 670 or better to qualify for a rewards card.
Annual fee
The majority of rewards cards include no annual fee or the fee may be waived for the first year, but generous rewards could outweigh the annual fee.
APR
Expect to pay an APR starting at 9.85%.
Balance Transfers
Reduce or consolidate your debt and strengthen your financial footing with a balance transfer credit card. 
With this tool, you save money on interest, particularly if you have a balance on a high-interest credit card. 
Always review the credit card agreement carefully on a balance transfer card. If you don't understand the terms, ask the lender.
APR
Many balance transfer cards offer a 0% APR promotional period. 
Make sure you're aware of how long that period lasts before the standard APR kicks in. If you make additional purchases using this card or don't repay the balance in full by the end of the period, you'll owe interest.
Transfer fee
You will pay a small percentage of the balance you are transferring when you open a balance transfer credit card.
Credit
The majority of balance transfer credit cards require good to excellent credit, but you can find options geared to average or fair credit.
Credit Building
Improve your credit score when you choose a specialized credit card. Then use your strong credit to earn lower interest rates on future loans or qualify to buy a car or house.
A credit-building card can help you establish good credit as long as you pay your bills on time and pay off the balance each month. Review offers carefully to ensure you choose the card that will help you reach your goal.
Features of a credit-building credit card include:
Credit
Generally, you can qualify for a credit-building card if you have below-average credit.
Security deposit
Choose a secured credit card, and you'll need to make a refundable security deposit. You can charge up to that amount each month. The lender can deduct missed card payments from your security deposit.
Credit reporting
To build your credit history and score, ensure your payment history is reported to the three major credit bureaus.
Credit limit increase
Earn a credit increase after you make several months of payments on time.
Rewards
Some cards offer an introductory bonus and other rewards, including cash-back or gift certificates.
Students
With little to no credit, students can use the right credit card to build their credit and prepare for a strong financial future. Successful use of a student credit card requires limiting charges and making payments on time and in full.
To choose the right student credit card, compare offers carefully. Review the APR and other charges, and limit your spending as you maximize this card's benefits while protecting your finances.
Here are some details regarding student credit cards:
Credit
You can qualify for a student credit card even if you have a low credit score.
Spending limit
Many student credit cards include a low initial spending limit that could increase as you use the card responsibly.
Rewards
Some student credit cards offer rewards for good grades, and you could earn bonus points for buying certain items like textbooks.
Education
Learn how to manage your credit and access your FICO credit score as you improve your credit and financial standing.
Deciding What Are The Best Credit Cards
A credit card can help you achieve your financial goals, whether you want to earn rewards, save money, boost your credit, or establish credit. 
Consider partnering with a credit union that prioritizes personal service. At Partners Financial Federal Credit Union, we offer a variety of credit cards like Visa Platinum and Visa Platinum Rewards.