Free Checking Accounts: How To Get More For Your Money
Posted on November 5, 2019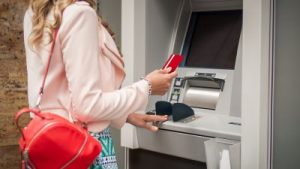 What do you like to spend your money on? Home furnishings? Investments? Savings? Vacations? How about monthly maintenance fees for your checking account? While you likely agree with at least one of the first options, we doubt that spending money on monthly maintenance fees is something you like or look forward to.
In that case, opening a checking account with no monthly fee is probably the best thing for you. Having a free checking account might sound too good to be true. This is especially a common thought in today's world, where many banking institutions charge monthly account maintenance fees. However, it is possible to still get an excellent checking account with no maintenance fees to handle your banking needs.
Keep reading to learn how to use a checking account to get more for your money.
How To Choose The Best Checking Account
What Does a Free or No-Fee Checking Account Mean?
A free checking account can mean different things depending on the financial institution you use.
At Partners Financial FCU, our free checking account means:
We don't charge monthly fees. Whether your balance is $100, $1,000, or $10,000, you don't have to pay a monthly service fee to keep your account open.
We don't charge for online or mobile banking. There are no fees associated with our online banking service or mobile app.
We reimburse ATM fees with certain accounts. Although you have to pay the initial ATM fee, we will refund your payments up to $25.
What's the catch? There is none. While you are still responsible for maintaining your account and practicing proper money management, as overdrawing your account or bouncing a check will trigger overdraft fees, however, if you properly maintain your account, you won't have to worry about a thing!
There are many benefits to using a free or no-fee checking account. Here are three of the top advantages you might experience.
Save Yourself Money
The amount of money you save will depend significantly on your spending habits and how much you'd be paying elsewhere. Either way, every dollar saved can go toward a different financial responsibility in your life.
For example, if you'd normally spend $12 per month on account maintenance fees, you can earmark $12 per month for credit card debt or the principal on your auto loan. You could also invest an extra $12 into a retirement account or investment account so that it can grow over time. Put the amount you'd spend on maintenance fees into an account and spend them on an end of year treat or holiday gift purchase.
You can look at the money you're saving as a possibility to do more, experience more, and achieve more because every dollar counts.
No Deposit and Withdrawal Requirements
Another benefit of having a free or no-fee checking account is that you aren't required to meet a minimum number of deposits and withdrawals you make each month before fees are waived.
Some accounts will only waive your fee if you make a certain number of direct deposits or debit purchases. When you agree to those terms, it requires that you spend time tracking how many direct deposits or debit card purchases you make to avoid paying a fee.
With our checking accounts, there are no monthly maintenance fees, so you don't have to spend your time doing this type of tracking. Instead, you can focus on what really matters like budgeting your money and making sure you have enough to cover your purchases.
The same goes for ATM fees. Some checking accounts will either waive ATM fees or refund ATM fees, so you have no worries.
Live Your Life Without (Certain) Penalties
Life changes in the blink of an eye, and you never know where tomorrow might lead you. Plan as you wish, but life is good at throwing curveballs.
When you use a free checking account, you can live life without worrying about certain penalties. That means that no matter your account balance, the ATM you use, or the number of transactions you make, you won't be charged a fee for these items.
There's no need to fret about maintaining a minimum balance. If you have a month where your account balance is lower because you had some unexpected expenses, you don't have to worry about paying a low balance fee.
You can live life on your own terms with one less thing to worry about.
Get More For Your Money With A Free Checking Account
When you open a free or no-fee checking account, you can rest assured that you don't have to pay monthly maintenance fees to use your account or the benefits and features that go along with it.
Not only do you save money, but you can live with peace of mind that you'll be making better use of your money by avoiding fees as long as you properly maintain your account. We get it, and that's why we offer our Imagine Checking Account to our members who are tired of account maintenance fees.