How to Finance a Used Car
Posted on January 27, 2022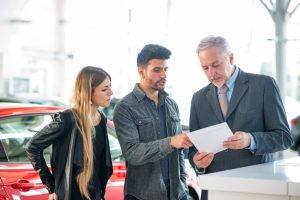 When you're in the market for a used car, there are several ways that you can obtain financing. 
Buying a pre-owned vehicle can be a wise financial choice versus financing a brand new vehicle that will lose value the moment you drive it off the lot. Educating yourself on the various options, and the main considerations for financing a used vehicle, can save you a ton of money over the lifetime of your loan. 
Read on to learn more about how to finance a used car and the basics of auto loans.
Options to Finance a Used Car 
Many consumers don't realize that there are a variety of ways to finance a used car other than just using the loans offered by the dealership. We'll review the four main options for how to finance a used car below:
Dealerships
One of the most common ways to finance your vehicle is to use the on-site dealership financing office to get your auto loan. Many dealerships offer incentives and promotional rates to their automotive customers. However, going this route is not always the cheapest or the most beneficial. Oftentimes, you will find much better deals by looking outside the dealer's office.
Banks
Another popular way to find an auto loan is through the major national banks. 
Securing your loan from a bank comes with the reputation and backing of a major financial institution. Large banks often have many different financial products to choose from, and interest rates typically remain competitive with the federal prime rate. 
However, consumers with untraditional financial situations, such as no established credit or inconsistent self-employment income, may have trouble obtaining financing from these sources.
Credit Unions
Obtaining your financing from a credit union is probably the wisest financial choice you can make in many cases. Although membership is required, joining your local credit union is easy, and the benefits are well worth it. 
Obtaining your automotive financing from a credit union opens you up to many more options, flexible terms, better rates, and more personalized service. Consumers who may not qualify for typical loan products from banks and dealership financing offices should be able to shop around to find a credit union that can help.
Online Lenders
Similarly, consumers who require additional loan options due to poor credit or other financial situations will find a variety of online lenders who are available to help. These websites enable access to a variety of loan products that can be applied for online and funded entirely without the need to ever step foot in an office or branch. 
Some like the convenience of this option, while others prefer more personal customer service for answering questions and getting feedback.
How to Finance a Used Car: What You Need to Know 
There are a few main considerations for financing a used vehicle and some things to keep in mind about how used car loans differ from new car loans.
Know the Basic Terms
In addition to your interest rate, there are a few other terms that affect your monthly payment and the total amount you will pay over the lifetime of your loan. 
The loan repayment period can drastically change your monthly payment. The longer your loan period is, the cheaper your monthly payment will be, but the more you will owe in monthly interest payments. And you'll want to look out for hidden fees that could affect your total loan amount.
It Pays to Shop Around
When you're in the market for vehicle financing, the interest rate and other terms that you receive will impact your finances for years to come. For this reason, you don't want to jump into signing on the dotted line for the first loan product you see. 
It always pays to shop around and compare rates and terms from various lenders and different types of financial institutions before you commit.
You May Want to Seek Out a Pre-Approval
Getting pre-approved for an auto loan before you begin shopping can help you have a better idea of how much you can qualify for and give you better bargaining power at the car dealership. It takes some of the stress out of the car buying process to know that you have already obtained conditional approval. This is especially true if you have a less-than-ideal financial situation, such as poor credit or a low income.
Used Car Loans vs. New Car Loans
There are a few differences between financing a used car and financing a brand new one. 
In general, interest rates are usually higher for used car loans than for new car loans. However, the financing period is typically shorter, allowing you to pay off your vehicle much faster. Getting approved for a used vehicle loan may also be a bit easier, especially for those with poor credit, since the loan amounts tend to be much smaller.
In the Market for a New or Used Car?
At Partners Financial FCU, whether you decide to finance a used car or prefer to drive a brand new vehicle off the lot, we're here for you with a variety of loan options to suit you and your financial needs.
There are a few other things to consider when deciding between buying a new or a used car. Click below to learn more!